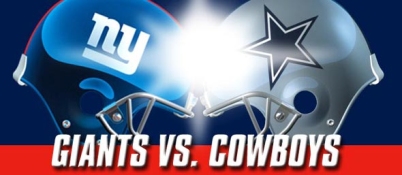 Cowboys Vs Giants, 3:30 PM CST
Did you guys know that Dallas actually intends to show up to their playoff game this weekend? It might come as a shock to journalists like Pat Kirwin, Vic Carucci, Pete Prisco, and Skip Bayless (does he really count though?). All three of these reporters plus many many more have been exceptionally critical of the Dallas Cowboys in December and even more critical of Tony Romo's weekend excursion to Cabo San Lucas this past weekend.
Rest assure Cowboys fans, while the media seems to doubt whether or not the Cowboys will be able to walk out and handle business this weekend, there isn't much doubt in the Dallas Cowboys locker room. The media also seems to be forgetting minor facts about the Giants so called hot streak. The Cowboys may have only won just 3 of their last five, but then again so have the Giants. Also, enough talk about how Corey Webster and the NY Giants were able to stop Joey Galloway. Galloway was hobbled in that game, Webster should have been able to keep up. The Bucs were 9-7, the Giants should have won that game, and they did. That doesn't mean the Cowboys are lost facing them Sunday.
Media folks, Tony Romo was in Cabo, Mexico. Not Cancun. You don't know what time the photo was taken so you don't know if he was watching the games when they were on. Even if he were, televised games are nothing like the game tapes the teams actually study. How much is he going to see when the cameramen focus more on where the ball is than what is going on around the ball? It also wasn't just Romo and Simpson, Witten was there as well. Why doesn't anyone want to talk about him? Anyone forget he's also a team captain? Look, this isn't exactly the first time Romo has taken a break from work during a bye week or an extended week. He went out of town during the bye week during the season as well and also had a late Thanksgiving dinner with the Simpson family right after the Packers game. He is 2-0 when going on a trip during the bye week.
All I can say is that there wasn't a team conference discussing whether or not the Cowboys will show up this week, so expect the team to play. They have beaten the Giants before, in fact twice before. Since the AFL/NFL merger the sweeping team has won 11 of 17 of the third games played. So the Cowboys have more than a shot of becoming 13 of 18.
Jessica Simpson will be a No-Show Sunday
Why is this news? I don't know. However, Jessica Simpson's publicist did make the announcement this week that Jessica Simpson has to work on a new album and won't be able to make the game. Tony Romo is currently 2-2 when Simpson shows up at a Dallas game. New reporters seem to want to overlook or not accept the fact that she was at the NY Jets and Green Bay Packers games, but several eye witnesses have confirmed that she was there, ugly pink jersey and all. What does this mean about Romo's performance when a woman of interest is present? Absolutely nothing, as it did when the media thought Romo was 0-2 when a women of interest was at the game.
Media Questions Phillips Future
The media has been questioning Wade Phillips future with the Dallas Cowboys after this season. Despite the 13-3 record, many media members have their doubts as to whether he will still be with the Dallas Cowboys next season if he doesn't win a playoff game. Jerry Jones, when asked this question quickly set the record straight. "There really should no question here," Jones said of his first-year head coach. "It's been just 10 months. It's really been just 10 months since Wade Phillips took this job and look what has happened in 10 months." Jones also said, "I don't know how you could even have a question as to whether or not he's coaching or not for the Cowboys in the future," Jones said of Phillips.
This must be the dumbest question ever asked by a media member, but as soon as I say that I'll probably hear an even dumber question. The media is already making it sound like the Dallas Cowboys have lost this Sunday in a game that haven't even played yet. Someone, please tell them the Cowboys are 9 point favorites, or at least stop with the uninformed questions.
Terrell Owens Back at Practice
Terrell Owens was back at practice on Thursday. While he is still considered a game day decision, and was seen still limping, the practices seemed to have taken on a whole new life with him out there. This is a positive sign, and if anyone should know anything about T.O., it would be that this guy would never miss a big stage game. I am going to go out on a limb here and say, I will be more shocked if T.O. doesn't play than I would be if he did. People can question his character all day, but questioning his heart should be out of the question.
Jerry Jones Urging Cowboys Fans to Wear White
If anyone plans on going to the game this weekend Jerry Jones is asking that everyone wears white to the game in show of support for the Boys. Why not? This is a tactic employed by a lot of colleges while it may not help a team win, it will definitely help motivate the crowd. So I'll second Jerry Jones and ask everyone to wear white in support of the Cowboys at the Game. I'd also like to encourage a lot of standing on seats and yelling, hooting, and hollering for our defense. It's time for the conservative Cowboys fans to give the Seattle Seahawks (12th Man) fans a run for their money. I bet the Cowboys fans can do it without sound box guys pumping in crowd noise.